Introduction
Ready to build your first web app with React? React is a javascript library, developed by Facebook, that has been gaining in popularity. It uses a component-based UI development style, combined with simplicity, and optimized performance. React is similar in nature to jQuery, in that they can both be used as UI libraries. Unlike larger web UI frameworks, such as Google's AngularJs, that can serve as a much larger package and complete UI framework, Reactjs excels at focusing on being a specialized UI view library. One of its biggest benefits is at rendering complex user interfaces with optimized performance. UI components built with React can also be re-used and even shared across projects.
In this tutorial, we'll walk-through building a simple javascript web app with React. We'll create a dragon generator (because, who doesn't love dragons, right?), consisting of a form, a submit button, a small remote database, and real-time output. We'll tie all of our logic together into a javascript React app, using node.js. Finally, we'll run a build to produce the final performance-optimized output files that can be uploaded directly to your web server.
Let's get started!
React Tutorial Demo App
Everyone wants to see the final demo, before we dive into the code, right? You can view the react javascript dragon generator demo here.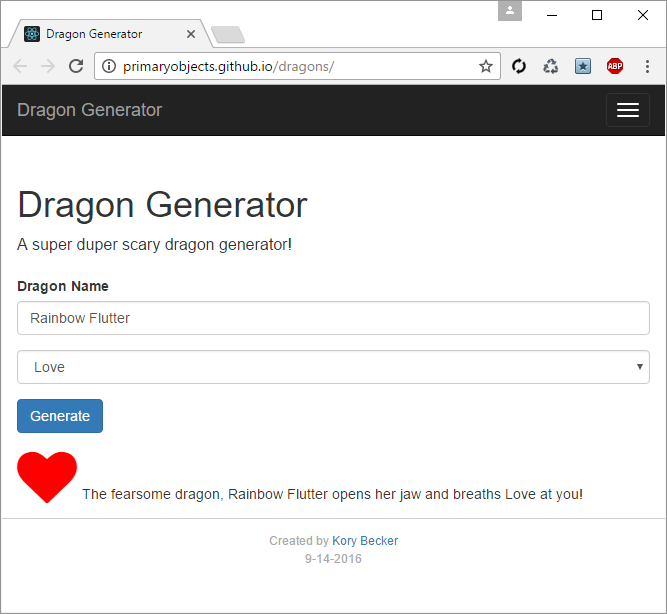 Installing React for Node.js
Since we'll be using node.js to create our react app, let's begin by installing react in our environment. We'll use the create-react-app framework in node.js.
Use the following command in your console to install the react framework for node:
| | |
| --- | --- |
| 1 | npm install -g create-react-app |
Next, we can create a template project with the following command:
| | |
| --- | --- |
| 1 | create-react-app dragons |
You should now have a folder named "dragons", containing a template project for the react app. You can try running the template project by entering the following command:
This should launch a web server and open your web browser to the project url on localhost, port 3000. You can view the url in your browser to see the default React project template. Let's design our form.
Setting Up a Web Template with Twitter Bootstrap
Let's begin the code for our front-end web development by using a simple Twitter Bootstrap template. We'll need a couple of CDN libraries to give our app a nice appearance, including both the Twitter Bootstrap and Font-Awesome libraries. Start by editing the file index.html and adding the following code inside the head section.
1




2




3




<link 

rel

=

"stylesheet"

 

href

=

"https://maxcdn.bootstrapcdn.com/bootstrap/3.3.7/css/bootstrap.min.css"

>
<link 

rel

=

"stylesheet"

 

href

=

"https://maxcdn.bootstrapcdn.com/font-awesome/4.6.3/css/font-awesome.min.css"

>
<script 

src

=

"https://code.jquery.com/jquery-3.1.0.min.js"

></script>

Include the following script tag just before the closing